Product Description
The Monster Cleaner
---
Will come with an adapter so the PET carboys will fit and can be sanitized (any container up to 55 mm in neck diameter).
Will take all types of bottles (PET beer bottles, wine bottles, champagne bottles).
Use the versatile adapter to easily sanitize a a variety of sizes and shapes, including Test Jars, Easy Siphons, Samplers and more.
Will fit on top of The Bottle Tower with no adapter required / Can also be used on any flat surface.
Volume of sanitizer is 50% more than our competitor's.
Overall height is smaller, making it more stable.
Size is perfect to sanitize Growlers and Gallon Jugs.
Slightly smaller in diameter, making it cheaper to ship and reducing space for storage.
Assembled in minutes.
BPA free.
Made with food grade materials.
---
** Not recommended to sanitize Large Glass Carboys.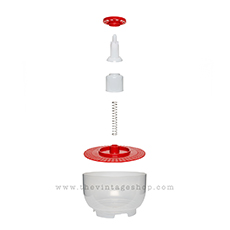 BrewersDirect is proud to offer The Monster Cleaner at a New low price.