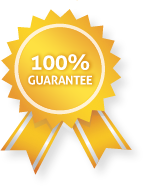 Brewers Direct 100% Guarantee
At Brewers Direct we guarantee all of the wine kits we sell 100%.
Please follow the instructions that come with your wine kit. If a problem should arise please bring us a bottle of the wine along with the brand name, the batch code number (located on the internal bladder) and your receipt. Once the wine is analyzed by the manufacturer and at our test lab, we will notify you. If a problem has been identified, we require the balance of the bottles of wine, and we will replace any bottles, corks, labels and shrink tops used in the process.